E.L.P.O. Barefoot Hoofcare - Skills Course (3 Day) (21 CE)
March 9, 2023 - March 11, 2023
9:00 AM - 5:00 PM Mountain
Barefoot trimming as a specialized profession has grown in popularity over the last 25 years, with many people finding it to be a very fulfilling, full-time career. For many others, learning the skills required to perform basic hoof care maintenance on their own horses is all they desire. Regardless of your end goals, this course is designed to give beginner, novice & even seasoned trimmers detailed hands-on training necessary for maintaining barefoot horses. We will focus on recognizing foot types & their needs, how to deal with distortions, and how to trim feet in a safe & effective manner. You will not only learn what to trim and how to trim, but also important skills regarding body positioning, horse comfort and effective tool usage. This is an excellent opportunity to build and fine tune your skills, as well as improve the proficiency & quality of your work. If certification is also important as a future goal, this course also qualifies as a certification preparatory course.
Topics Covered During the Course
Basic equine lower limb anatomy
Leverages on the hoof capsule and its possible effects
Recognizing distortions in the hoof & reading hoof tissue
Cadaver hoof trimming & dissections
Body Positioning & Tool usage, i.e. hoof knives, nippers, rasps, etc.
Course Begins at 9:00 AM and will run until 5:00 PM each of the 3 days (Thursday - Saturday).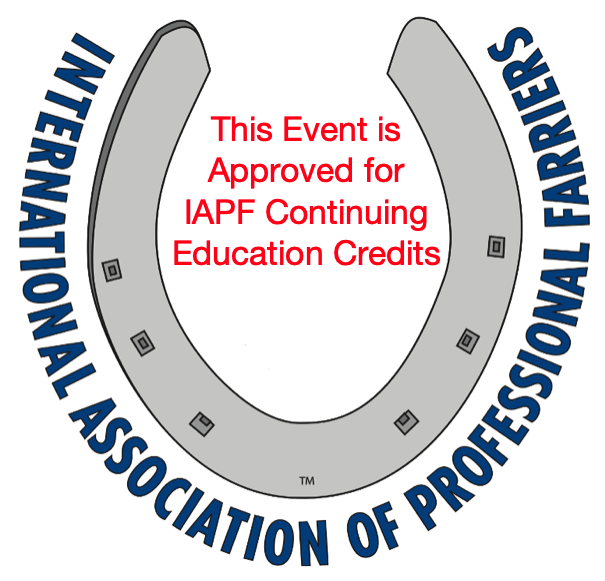 Approved for 21 IAPF Continuing Education Credits
return to INTERNATIONAL ASSOCIATION OF PROFESSIONAL FARRIERS